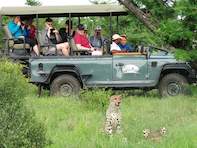 The Manyeleti Game Reserve on the border of the Kruger National Park in South Africa is one of the hidden gems of the African safari offerings
Community and Wildlife
Leopard cub at Honeyguide tented camp The Manyeleti Game Reserve, which shares an unfenced border with the Kruger National Park, was established in the early 1960's as a safari getaway for non-white South Africans as they were not allowed to stay in the rest camps of the Kruger Park - this despite the fact that they were allowed to work in the same rest camps.
Today, community partnerships and new concession holders have transformed this pristine reserve into a sustainable joint eco-tourism venture.
The Best in African Wildlife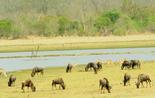 River scene at Tintswalo Before my first visit I had been warned that the Manyeleti wildlife experience is not up to the standard of other reserves, but after the trip I had to disagree. In the two days I spent there we saw an impressive variety and number of animals on each drive - comparable to the best wildlife areas.
We saw herds of elephant, buffalo, zebra and wildebeest, and had great sightings of hyenas, lions, leopard and rhino. However, I realized that the Manyeleti is more about the quality of the experience than merely ticking off a checklist.
The bush is pristine, there is minimal traffic and the guides are passionate, and have an understanding not only of the animals but also of human nature and its needs. I saw more wildlife - and had better quality sightings - at Manyeleti than in two visits to the Sabi Sands.
The True Meaning of Wilderness Safari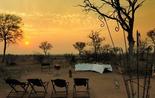 Tintswalo Safari Lodge On my last morning at Manyeleti I awoke to the call of the fiery-necked nightjar as the eastern horizon glowed with the approaching dawn. I got out of bed and walked out onto the deck of my room. Over the next hour I identified over twenty different bird calls and heard many more I was not sure of.
As I sat there I pondered the meaning of the wilderness experience. Is it the big game - the promise of the 'Big Five' - the comforts of a safari lodge with fine food and wine, absolute luxury with excellent service with game as a sideline or is it the experience of the African wilderness at its most pristine? As I pondered this I realized that, with its range of lodge options, the Manyeleti provides it all. The place allows guests to find their own rhythm.
by Leigh Kemp