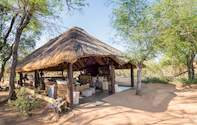 Pungwe Safari Camp is just the place for animal lovers looking for an affordable authentic safari stay in the Manyeleti Game Reserve.
Why We Love it and You Will Too
Pungwe Safari Camp offers accommodation in large authentic Meru-style tents.
This rustic, modest camp is also ideally situated in the remote southern portion of the Manyeleti reserve rich in diverse fauna and flora.
The wildlife sightings on guided game drives and walks are amazing, with game moving freely between the Manyeleti Game Reserve, Sabi Sand Game Reserve and from the Kruger National Park.
The friendly service is also worth a mention, with well-trained, passionate staff who are invested in Pungwe Safari Camp.
Your Pungwe Safari Camp Experience
If you're making your way to South Africa to "the authentic bush", look no further than Pungwe Safari Camp.
Pungwe Safari Camp is a taste of the old safari era, off-grid and practising eco-friendly safaris. Pungwe Safari Camp is community-owned and run and promotes an interdependent relationship with the surrounding communities. The camp provides support through various initiatives, from providing daily meals to local creche which they build to skills development, providing employment to 60% of the land claimed families.
The location of Pungwe Safari Camp is out of this world. Here within the renowned Manyeleti Game Reserve, you are assured of the most exceptional game viewing. Game vehicles are permitted to venture off-road, which means tracker-guides waste no time getting you straight into the company of lions, leopards, cheetahs, wild dogs, and elephants, to name a few. Since the reserve shares an unfenced border with the Kruger and Sabi Sands, there is a constant stream of animals making their way into the area.
Of course, game viewing is not just reserved for game drives. At Pungwe Safari Camp you also have the option of joining a bush walk (with an armed tracker) or simply taking up your new favourite spot on your private verandah. From chirping weavers to cheeky little vervet monkeys, it's not uncommon for something to catch your eye right from the comfort of the camp.